User access control
Включение, настройка и отключение User Account Control (UAC)
В современных версиях Windows существует много инструментов, которые предназначены для обеспечения безопасности. Один из них — User Account Control, что в переводе означает «Контроль учётных записей». Он выдаёт окно с предупреждением, если какая-то программа или процесс пытается внести несанкционированные изменения в систему. И надо либо разрешить запуск утилиты, либо отменить его. Разберитесь, для чего нужен UAC Windows 7, как отключить его, как активировать и как настроить.
В этой статье мы расскажем, как включить UAC в Виндовс
Что такое UAC и зачем он нужен?
Многих пользователей раздражают такие уведомления. Ведь приходится каждый раз подтверждать, что вы согласны на установку нового приложения. Но контроль учётных записей служит для защиты от вредоносного ПО: вирусов, шпионов, рекламщиков. Он не заменит антивирус, сетевой экран или firewall. Но без этой функции Windows будет уязвима.
Если отключить UAC, компьютер окажется под угрозой. Не стоит деактивировать Account Control без причин. Иначе абсолютно любая программа сможет менять настройки системы, устанавливать свои дистрибутивы и запускать их. И всё это без ведома пользователя.
Контроль учётных записей можно настроить, чтобы он не был таким «надоедливым», и оповещение не выскакивало при запуске любой программы. Но рекомендуется оставить эту функцию в активном состоянии, чтобы защитить ПК.
Панель управления
Отключение UAC Windows 7 выглядит так:
Пуск ­— Панель управления.
«Учётные записи пользователей».
«Изменение параметров учётных записей».
Откроется окно с описаниями и ползунком. Передвигайте его, чтобы задать желаемые настройки. С правой стороны будет пояснение к выбранной опции.
Там есть четыре отметки. Верхняя «Всегда уведомлять» означает, что диалоговое окно-предупреждение будет всплывать при запуске абсолютно любой программы.
Если вам нужно полностью отключить UAC, передвиньте «каретку» на нижнее деление «Никогда не уведомлять». Но тогда риск заражения вирусными программами увеличится, и Windows будет под угрозой.
Лучше оставить ползунок где-то посередине. Чтобы контроль учётных записей уведомлял вас, только когда приложение пытается что-то поменять в системе. Если поставите прямоугольник на третью позицию, при появлении сообщения картинка на мониторе будет темнеть. Если поставите на второе деление, дисплей темнеть не будет.
Настройте, в каких случаях показывать уведомления
Войти в это меню и отключить UAC можно и быстрее.
Нажмите «Пуск».
Кликните на изображение вашей учётной записи наверху.
В Windows Vista такого ползунка нет. Соответственно, детальная настройка функции невозможна. Доступно только включение и отключение режима.
Групповые политики
Ещё один метод взаимодействия с Account Control — редактор групповой политики. Этот способ подойдёт не для всех версий операционной системы. Только для Профессиональной, Максимальной и Корпоративной Windows.
Чтобы отключить UAC:
Перейдите в «Пуск — Выполнить» или нажмите Win+R.
Напишите в поле для ввода «secpol.msc» без кавычек и кликните на «OK».
Раскройте иерархию «Локальные политики — Параметры безопасности».
В списке справа найдите пункты «Контроль учётных записей». Там их несколько.
Вам нужен тот, который заканчивается словами «Все администраторы работают в режиме одобрения». Дважды щёлкните по нему.
На вкладке «Параметры безопасности» поставьте маркер рядом с пунктом «Отключение».
Нажмите «Применить», закройте редактор и перезагрузите компьютер.
Запустите редактор групповой политики
Снова включить Account Control можно в том же меню.
Редактор реестра
Перед тем как что-то менять в реестре, надо сделать его резервную копию. Чтобы в случае возникновения неполадок его быстро восстановить.
Перейдите в «Пуск — Выполнить» или нажмите Win+R.
Введите «regedit» и нажмите «OK».
В появившемся окне откройте «Файл — Экспорт».
Укажите путь к папке, в которой надо сохранить бэкап.
Вот как в Windows 7 отключить контроль учётных записей UAC:
В редакторе реестра откройте «Правка — Найти».
Запустите поиск по запросу «EnableLUA».
В результатах выберите строчку с таким же названием. Дважды кликните по ней.
В поле «Значение» напишите цифру «0» (ноль), чтобы остановить работу службы.
Чтобы снова включить UAC, поменяйте «0» на «1» (единицу).
Нажмите «OK» и перезапустите ПК.
Командная строка
Отключение Account Control при помощи команд:
Пуск — Программы — Стандартные.
Кликните правой кнопкой мыши по «Командная строка».
Выберите «От имени администратора». Откроется окно с чёрным фоном и белым шрифтом.
Скопируйте в него команду «%windir%System32cmd.exe /k %windir%System32reg.exe ADD HKEY_LOCAL_MACHINESOFTWAREMicrosoftWindowsCurrentVersionPoliciesSystem /v EnableLUA /t REG_DWORD /d 0 /f» и нажмите
Она меняет параметры реестра. Через него можно вновь активировать режим.
Account Control — это необходимая мера безопасности. Отключайте её только в крайнем случае.
Расскажите, а у вас работает UAC, или вы обходитесь без него?
Techyv.com
User Access Control
With the increasing use of computer and information technology in all aspects of life, the importance of information security has increased concurrently. Microsoft has successfully dominated the market. Its Operating Systems have become the most widely used system application all across the globe.
Microsoft Operating Systems have been relying on third-party antivirus and antimalware programs for a long period of time while they have been trying to bring this feature from within the Operating System. In the progress of system security features, Microsoft launched User Access Control (UAC) first time with Windows Vista and Windows Server 2008.
UAC is a built-in application in the aforementioned Operating Systems that improve the security of Microsoft Operating Systems by limiting an application to be authorized by the system administrator. This application prompts even if the user has logged in as an administrator. Any application that can make a change to system or a system application needs the user's authority. Thus, the chance of malware running unnoticed reduced by far. Given that security level applied is appropriate.
UAC application in Windows Vista and Windows Server 2008 has a very complex version and it was really difficult for an end user to cope up with its interface and settings. It took more resources in the system and took more time to manage. Microsoft, in its effort to provide the users with maximum ease, improved the application interface by introducing the UAC slider option in Windows 7 and Windows Server 2008 R2 so that the users may change the level of security by sliding the options.
UAC in Windows 7
Windows 7 has brought the improved and user-friendly version of UAC to its users. The procedure for changing access and settings is given in the simple steps below:
Accessing UAC in Windows 7
Users may open User Access Control (UAC) by following the two simple steps below.
Step 1
Go to Control Panel and click "User Accounts".
Step 2
In the User Accounts window, click "Change User Account Control Settings".
Applying Security
Users are provided with four security levels to choose from the slider in "User Access Control Settings" window. The details regarding each option and its impact to system security are elaborated as follows.
Always Notify
The users that regularly install applications and do a lot of browsing on various websites are recommended to use this option as a security level. This option enables the system to prompt as soon as a program tries to make a change to the computer or installs an application. It also lets the UAC prompts to pop up if the user himself is making changes to Window Settings.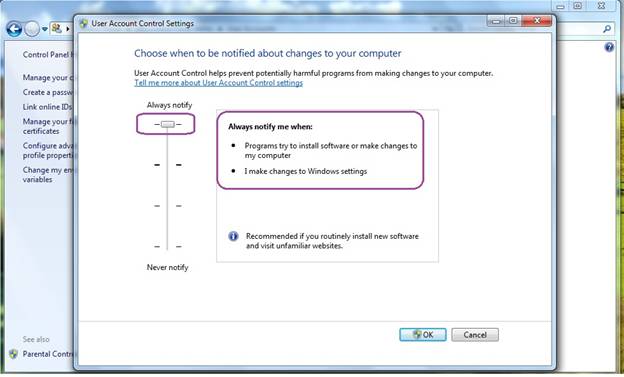 Default Notify
The end users are provided by this default User Access Control notification security level by Microsoft in Windows 7 Operating System. This security level is recommended by Microsoft to be applied if the users have a limited system usage with familiar programs running regularly and new applications are occasionally installed and ran. This level of security prompts the user as soon as a setting can affect the Windows settings.
Notify if program try to make a change
Microsoft recommends this security level to be opted only if the user has limited system resources and the notifications take more time to prompt. This option is applied so that the user is notified as soon as a program tries making changes to the computer.
Never Notify
Users that need to use applications that are not certified for Windows 7 apply this option since such programs do not support UAC.
User Access Control
1 User Access Control
См. также в других словарях:
User Account Control — (UAC) is a technology and security infrastructure introduced with Microsoft s Windows Vista operating system. It aims to improve the security of Microsoft Windows by limiting application software to standard user privileges until an administrator … Wikipedia
User Account Control — UAC (User Account Control) компонент Microsoft Windows, впервые появившийся в Windows Vista. Этот компонент запрашивает подтверждение действий, требующих прав администратора, в целях защиты от несанкционированного использования компьютера.… … Википедия
User Account Control — (UAC, contrôle du compte de l utilisateur), est un mécanisme de protection des données introduit dans les systèmes d exploitations Windows Vista et 7. UAC est aussi connu sous ses dénominations précédentes durant le développement de Windows Vista … Wikipédia en Français
Access control — is the ability to permit or deny the use of a particular resource by a particular entity. Access control mechanisms can be used in managing physical resources (such as a movie theater, to which only ticketholders should be admitted), logical… … Wikipedia
Access control list — In computer security, an access control list (ACL) is a list of permissions attached to an object. The list specifies who or what is allowed to access the object and what operations are allowed to be performed on the object. In a typical ACL,… … Wikipedia
access control list — noun A security scheme for file level security (as opposed to traditional user, group levels, or the somewhat stricter role levels.) Abbreviated ACL. The hackers broke through the B security model, so no more role level security; all critical… … Wiktionary
access control list — Abbreviated ACL. A list or table containing information about the users, processes, and objects that can access a specific file or object. ACLs are usually attached to file system directories, and they specify access permissions such as read,… … Dictionary of networking
Mandatory access control — In computer security, mandatory access control (MAC) refers to a type of access control by which the operating system constrains the ability of a subject or initiator to access or generally perform some sort of operation on an object or target.… … Wikipedia
Network Access Control — (NAC) is an approach to computer network security that attempts to unify endpoint security technology (such as antivirus, host intrusion prevention, and vulnerability assessment), user or system authentication and network security… … Wikipedia
Discretionary access control — In computer security, discretionary access control (DAC) is a kind of access control defined by the Trusted Computer System Evaluation Criteria[1] as a means of restricting access to objects based on the identity of subjects and/or groups to… … Wikipedia
Access Control
Restricting read and write access to topics and webs, by users and groups
Access Control allows you restrict access to single topics and entire webs, by individual user and by user Groups. Access control, combined with UserAuthentication, lets you easily create and manage an extremely flexible, fine-grained privilege system.
Please note FileAttachments are not protected by Foswiki Access Control in a default configuration (though this can be enabled).
An important consideration
Open, freeform editing is the essence of WikiCulture — what makes Foswiki different and often more effective than other collaboration tools. For that reason, it is strongly recommended that the decision to restrict read or write access to a web or a topic is made with great care — the more restrictions, the less Wiki in the mix. Experience shows that unrestricted write access works very well because:
Peer influence is enough to ensure that only relevant content is posted.
Peer editing — the ability for anyone to rearrange all content on a page — keeps topics focused.
In Foswiki, content is transparently preserved under revision control:

Edits can be undone by the administrator (per default a member of AdminGroup; see #ManagingGroups).
Users are encouraged to edit and refactor (condense a long topic), since there's a safety net.
As a collaboration guideline, create broad-based Groups (for more and varied input), and avoid creating view-only Users (if you can read it, you should be able to contribute to it).
Permissions settings of the webs on this Foswiki site
The topic SitePermissions gives you an overview of the access control settings for all your webs.
Authentication vs. Access Control
Authentication: Identifies who a user is based on a login procedure. See UserAuthentication.
Access control: Restrict access to content based on users and groups once a user is identified. (Also referred to as Authorization)
Users and groups
Access control is based on the familiar concept of users and groups. Users are defined by their WikiNames. They can then be organized in unlimited combinations by inclusion in one or more user Groups. Groups can also be included in other Groups.
Managing Users
In standard Foswiki a user can create an account in UserRegistration. The following actions are performed: (See ManagingUsers for more details).
WikiName, encrypted password and email address are recorded using the password manager if authentication is enabled.
A confirmation e-mail is sent to the user.
A user home page with the WikiName of the user is created in the Main web.
The user is added to the WikiUsers topic.
Optionally the user is added to one or more groups.
The default visitor name is WikiGuest. This is the non-authenticated user. By default the non-authenticated user is not permitted to edit topics. If you require anonymous editing, see «Controlling access to individual scripts» in UserAuthentication.
Managing Groups
The following describes the standard Foswiki support for groups. Your local Foswiki may have an alternate group mapping manager installed. Check with your Wiki administrator if you are in doubt.
Groups are defined by group topics located in the Main web. To create a new group, visit WikiGroups. You will find a «Create a new group» link at the top which reveals a form to create a new group. Enter the name of the new group ending in Group into the «Group Name» form field and the initial members in the «Members» field. This creates a new group topic. (The default User Mapper shipped with Foswiki requires that groups end with the word Group. If your site uses an alternate mapper, it might not have that requirement.)
By default any member of a group has access rights to both adding and removing users from the group through the nice user interface. If you need to limit this access further, change the ALLOWTOPICCHANGE setting through «More Topic Action» -> «Edit topic preference settings».
The ALLOWTOPICCHANGE setting defines who is allowed to change the group topic; it is a comma delimited list of users and groups. You typically want to restrict that to the members of the group itself, so it should contain the name of the topic. This prevents users not in the group from editing the topic to give themselves or others access. For example, for the KasabianGroup topic write:
Set ALLOWTOPICCHANGE = Main.KasabianGroup

Caution This is set in the «Topic Settings» and not inline in the topic text!

If you want to hide a group and its list of members, you can set ALLOWTOPICVIEW on the group. For example:
Set ALLOWTOPICVIEW = Main.SecretGroup

This group will be usable in the ACL of any topic, but is only visible to members of the group.
Caution As with the the prior example, this is set in the «Topic Settings» and not inline in the topic text!
Background: A group topic is an empty topic with 3 hidden preference settings.
GROUP: Comma separated list of users and/or groups
ALLOWTOPICCHANGE: Comma separated list of users and groups that are allowed to add and remove users from the group
VIEW_TEMPLATE: Always set to the value GroupView . This alters the way the topic is presented to include a nice user interface for adding and removing users.
Foswiki 1.1 introduced the smart user interface for adding and removing members of a group. Group topics from prior versions of Foswiki will still work. These have the GROUP setting visible in the topic text itself and you edit it by editing the topic. Foswiki 1.1 WikiGroups will show these old group topics with an «Upgrade Group Topic button». The administrator can upgrade an old group topic to the nice new user interface with one easy click.
The Super Admin Group
A number of Foswiki functions (for example, renaming webs) are only available to administrators. Administrators are simply users who belong to the SuperAdminGroup. This is a standard user group, the name of which is defined by setting in configure. The default name of this group is the AdminGroup . The system administrator may have chosen a different name for this group if your local Foswiki uses an alternate group mapping manager, but for simplicity we will use the default name AdminGroup in the rest of this topic.
You can create new administrators simply by adding them to the AdminGroup topic. using the WikiGroups API For example,
A member of the Super Admin Group has unrestricted access throughout the wiki, so only trusted staff should be added to this group.
Restricting Access
Access to webs and topics is controlled by:
The setting in configure -> Security and Authentication -> Login;
The settings in configure -> Security and Authentication -> Access Control; and
setting the values of certain preferences.
These preferences have the general form:
Where permission is ALLOW or DENY , context is TOPIC , WEB , or ROOT , and mode is VIEW , CHANGE , or RENAME . For example, the preference ALLOWWEBCHANGE lists who is allowed to change topics in the current web. (Some extensions add additional modes. Ex. ALLOWTOPICCOMMENT.)
Restricting VIEW blocks viewing and searching of content. When you restrict VIEW to a topic or web, this also restricts INCLUDE and Formatted SEARCH from showing the content of the topics.
Restricting CHANGE blocks creating new topics, changing topics or attaching files.
Restricting RENAME prevents renaming of topics within a web.
And, when enabled by settings:
Restricting HISTORY blocks access to older revisions of topics by the rev= URL parameter.
Restricting RAW blocks access to the raw= topic text.
Note that ALLOWWEBxxx and DENYWEBxxx preferences can only be set in WebPreferences topics. You cannot define a site level access. Each web must be protected on their own. Subwebs inherit access settings from the parent web. See next section.
Note that ALLOWTOPICxxx and DENYTOPICxxx preferences apply only to the topic itself.
Be warned that some plugins may not respect access permissions.

FINALPREFERENCES affects access controls, allowing you to prevent changes to access control settings while still allowing edit access to topics.
Controlling access to a Web
You can define restrictions on who is allowed to view a WikiCMC web. You can restrict access to certain webs to selected users and groups, by:
authenticating all webs and restricting selected webs: Topic access in all webs is authenticated, and selected webs have restricted access.
authenticating and restricting selected webs only: Provide unrestricted viewing access to open webs, with authentication and restriction only on selected webs.
You can define these settings in the WebPreferences topic, preferable towards the end of the topic:

Set DENYWEBVIEW =
Set ALLOWWEBVIEW =
Set DENYWEBCHANGE =
Set ALLOWWEBCHANGE =
Set DENYWEBRENAME =
Set ALLOWWEBRENAME =

If is set to acl in configure, then the following rules are also active:

Set ALLOWWEBRAW =
Set DENYWEBRAW =

If is set to acl in configure, then the following rules are also active:

Set ALLOWWEBHISTORY =
Set DENYWEBHISTORY =
You can also use the asterisk (*) in any of the above settings if you want it to match all possible users.
If your site allows sub-webs, then access to sub-webs is determined from the access controls of the parent web, plus the access controls in the sub-web. So, if the parent web has ALLOWWEBVIEW set, this will also apply to the subweb. Also note that you will need to ensure that the parent web's FINALPREFERENCES does not include the access control settings listed above. Otherwise you will not be able override the parent web's access control settings in sub-webs.
Creation and renaming of sub-webs is controlled by the WEBCHANGE setting on the parent web (or ROOTCHANGE for root webs). Renaming is additionally restricted by the setting of WEBRENAME in the web itself.
Controlling access to a topic
You can define these settings in any topic, preferable towards the end of the topic:

Set DENYTOPICVIEW =
Set ALLOWTOPICVIEW =
Set DENYTOPICCHANGE =
Set ALLOWTOPICCHANGE =
Set DENYTOPICRENAME =
Set ALLOWTOPICRENAME =

If is set to acl in configure, then the following rules are also active:

Set ALLOWTOPICRAW =
Set DENYTOPICRAW =

If is set to acl in configure, then the following rules are also active:

Set ALLOWTOPICHISTORY =
Set DENYTOPICHISTORY =
You can also use an asterisk (*) in any of these settings to match all possible users.
Remember when opening up access to specific topics within a restricted web that other topics in the web — for example, the WebLeftBar — may also need to be accessed when viewing the topics. The message you get when you are denied access should tell you what topic you were not permitted to access.
Access rules in Foswki version 1.x
Click this link to see more documentation on the prior behaviour.
The previous documentation said:
Set ALLOWTOPICVIEW =
This means the same as not setting it at all.
Set DENYTOPICVIEW =
This means the same as not setting it at all.
As of Foswiki 2.0, the empty DENY setting is now meaningless, unless explicitly overridden by your installation.
User Authentication and Access Control in a Web Application
This is the sixth installment of Behind the Scenes: The Creation of a Web Application, the series following the construction of an entire web application, from start to finish.
Last time, we brought our app to life, establishing the first few fully-functioning pages. But you may have noticed something… There was no sign of users or user authentication anywhere in the application.
And there's a reason for that.
Layering user functionality on top
When building a new web application, some people like to start by implementing the user-based functionality. I, on the other hand, find it much easier to build the other core functionality first — the course and lesson functionality, in the case of this app — and then integrate users.
That way, by the time you're integrating the user functionality, you already have a clear picture of how the rest of the data is flowing throughout the app. This makes it much easier to define a clear-cut set of goals and restrictions when implementing the user functionalities.
The main aspects of user integration
When integrating users into an application, there are three main aspects to consider:
1. Representing users in the database
2. User authentication (and accounts)
3. Access control
We already addressed number one — representing users in the database — back when we designed the application's database. So it's numbers two and three we're concerned with now.
The purpose of user authentication
Even if you aren't aware of it, you're already familiar with the main aspects of user authentication: logging in and out.
And at its core, that's really all there is to user authentication itself. The purpose of logging in is to let the application know who you are, so it can grant you the necessary privileges throughout (or restrict you from accessing certain things).
That concept — of granting and restricting access — is known as access control.
Access control determines what users can (or can't) access
Let's take our online course web application as an example.
In the app, there are courses. But as we established in the planning stages, users are only supposed to be allowed to access a course if they have a proper subscription for it.
As pictured below, access control within the application will function like so:
User logs in (i.e. authenticates)
The application is now aware of who the current user is
The user attempts to access a course
The application checks to see if the user has a subscription for the course…

If so, they're allowed to view it
If not, they're denied access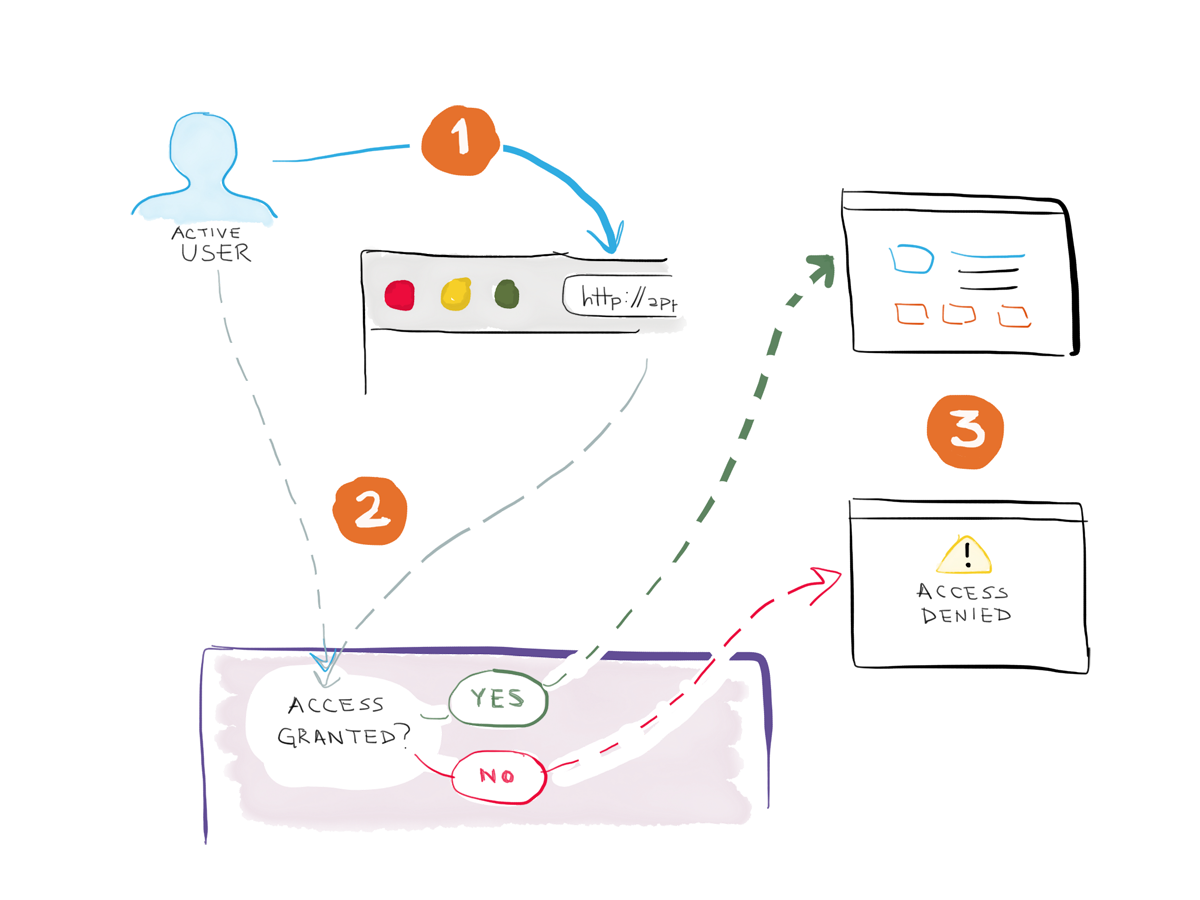 Using user access control to restrict access in a web application
Needless to say, if a user is not logged in, they won't be able to access any courses.
In addition to access control, when a user is logged in, the application also has the ability to create and store data specific to that user.
User-specific data
Again, let's use our application as an example.
When planning the application, we established that users would be able to mark course lessons as "complete" once they finished them. For this to work in practice, the application needs to be aware of who the active user is.
This mark-as-complete functionality will operate in the application like so:
User X is logged in and is viewing a course Lesson, Y.
They finish the lesson and click a Complete button.
The application adds an entry to the database designating that User X has completed Lesson Y.
Now, next time they're viewing the course, we can access that piece of information and designate that they've completed that lesson.
Now that we have an idea of the different aspects of integrating users into an application, let's take a quick look at the additions required to make this new functionality a reality.
Additions to the application
There are a few new things we'll need to add to the application:
A Login page
Authentication functionality (to process logins and logouts)
Interface alterations based on a user's login status (e.g. when a user is logged in, show them a Logout link in the main menu; when logged out, show them a Login link)
Access control functionality
I've updated the live course application to include all of the user-related functionality discussed above.
The live course application demo, updated
You can view the updated application here:
And you can login with the following credentials:
Email: user@example.com
Password: secret
You'll notice that, unlike last time, if you try to access the Demo Course page without logging in, you'll be denied access and sent to the login page. User access control in action.
You'll also see that you can mark lessons as "complete". (Although if there are multiple people logged into the same test account, things could get a bit wonky!)
Play around with everything, and leave a comment below to let me know what you think.
Want to learn to build and deploy a Laravel web application, step by step?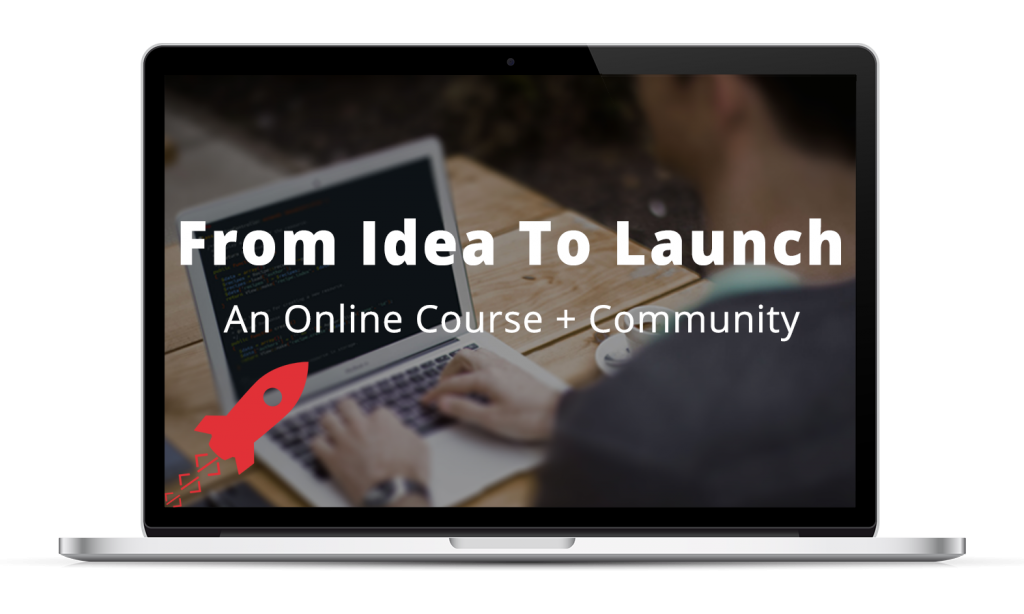 In From Idea To Launch, my online video course + community, I'll walk you through the entire process of building and launching your own, complete Laravel web application, at beginner's speed. I'll teach you all the PHP and Laravel fundamentals you need to know as you build your application, step by step. And you'll have access to all the help and assistance you need as you move through the course.