Asp net core hosting
Best Fast & Cheap Windows Shared Hostings For ASP.Net Core
I've been using VPS(Virtual Private Server) for many years. I have tried many providers & always been satisfied. I have also used Amazon Web Services (AWS) for some of my clients. It offers reliable & scalable cloud computing services. When It comes to Microsoft Azure Cloud Services, It's also an open, flexible, enterprise-grade cloud computing platform with great features as AWS.
All the above solutions to host your .Net Core Applications are great but expensive & require a little networking knowledge to set up your web application.
Do you want a cheap shared hosting plan with the support of latest .Net Core Versions?
Yes, In this article, I'm going to list down some of the cheap, fast & reliable web hosting providers to publish your ASP.Net Core Application.
Background
2 days ago, I bought a Godaddy Windows shared hosting plan to host an ASP.Net Core 2.2 Application for my client. I have used Godaddy's VPS which is really great with the power of Plesk. After purchasing Shared Hosting I found that It doesn't support .Net Core 2.2 (till I'm writing this Article – Aug 2019). Actually they added support till .Net Core 2.0 in July 2019 & looks like there's no recent plan to update. So I decided to ask their support to refund. I'll appreciate their really friendly support, they help me to initiate my refund request.
Best Shared Hosting for ASP.Net Core Latest Versions
After too much searching & testing many Shared Windows hosting, I have compiled a list of best, Fast & cheap solutions which also support Latest .Net Core versions. If you have any Good or Bad experience with any ASP.Net Core Hosting or If you want to add or remove any hosting provider in the list below, please share in the comment section below.
asphostportal
ASPHostPortal is Microsoft No #1 Recommended Windows & ASP.NET Spotlight Hosting Partner for hosting your .Net Core Applications in US. Microsoft presents this award to ASPHostPortal for supporting the latest Microsoft and .NET technology, such as .NET 5/ASP.NET Core All Version, ASP.NET MVC 6.0/5.2, WebDeploy, WebMatrix, Visual Studio 2015, Silverlight 6 and Visual Studio Lightswitch.
Features:
ASP.NET Core *All Version* Including 3.0
ASP.NET 5 / ASP.NET Core
ASP.NET v. 4.6/4.5.2
ASP.NET v. 4.0/3.5/2.0
Classic ASP & EF 6
ASP.NET MVC v. 6.0
ASP.NET MVC v. 5.2/5.1.2
ASP.NET MVC v. 5.1.1/5.1
Visual Studio LightSwitch
URL Rewrite
WCF Service
WebDeploy/WebMatrix
Silverlight v. 6.0/5.0/4.0
Support Full Trust
.CSHTML / Razor Engine
Crystal Report 2013/2010
Plans Comparision
smarterasp
This is another Professional ASP.NET hosting with unlimited space, bandwidth and emails. The great thing I loved about SmartASP is that it also provides 60 Day Trial with free temporary URL without asking for Credit Card info. You can also run your application before paying for the SmartASP Hosting.
Features:
Windows 2019 Hosting, Windows 2016 Hosting, Windows 2012 Hosting
ASP.NET Core All Versions
ASP.NET 4.8, ASP.NET 4.7, ASP.NET 4.6.1
ASP.NET 4.5.2, ASP.NET 4.5.1, ASP.NET 4.5
Node.js Hosting support
Frontpage & Web Deploy
FTP / FTP over SSL
Silverlight 5 Hosting, Silverlight 4
URL Rewrite Module 2
RIA Services
SmarterStats / Raw Logs
ASP.NET AJAX Hosting
SSL Certificates Hosting support, Free Let's Encrypt Cert
SQL Server 2017, SQL Server 2016, SQL 2014, SQL 2012 and SQL 2008 R2
99.9% Uptime
DELL Servers & Equalogic SAN Storage
Orchard, DNN, Blogengine Compatible
WebMatrix Compatible
Easy Application Installer in Control Panel
You can try their free 60 days trial before paying. Click here.

Plans Comparision
Accu Web Hosting
ACCU Web Hosting is another Affordable Hosting Provider for Microsoft Technologies with 30 days money-back guarantee & 99% uptime. it provides Windows Server 2016 hosting with SQL Server 2017 with the power of Plesk.
Features
ASP.Net 4.x / 2.x Support
ASP.Net Core 2.x / 1.x Support
ASP.NET MVC 5 / 4 Support
Classic ASP Support
mySQL ODBC Driver
mySQL .Net Connector
Supports Visual Studio
Variety of ASP.Net Components
SQL 2017 Database
Microsoft Access Database
Full Trust Hosting Accounts
IIS Manager Access
IIS URL Rewrite Module 2
Web Deploy & Web Matrix Compatible
1-Click installation of 100+ Applications
ASP.Net AJAX / Silverlight
WCF RIA Services / Web Services
Dedicated Application Pool (250MB)
Free Account Transfer
30 days Money back guarantee
99.9% uptime guarantee
Free Email Accounts
Latest Crystal report runtime module
Microsoft Report Viewer
Daily Backup of your Website
Plesk Onyx Host Edition
24/7 security monitoring and DDoS protection
Free AutoSSL using Let's Encrypt
FTP over SSL (FTPS)
Click here to buy ACCUWebHosting cheapest Hosting Plan.
PLANS COMPARISION
Interserver.net
It's also an affordable & fast hosting solution for your ASP.Net technologies. Their windows hosting packages offer the option to create unlimited email accounts, prevent spam and keep accounts safe. They also offer website security and Search Engine rankings boost with a free Let's Encrypt SSL certificate available in the one-click installer in Plesk panel.
Features
Weekly Backups
SSD Caching Servers
Raid-10 Storage
Speed Optimization
10gb Cisco Network
Free Cloudflare CDN
30 Day Guarantee
25 Websites / Domains
10 Parked Domains
$1.99/year Discounted Domain Registration
Free SSL Certificates
Plesk Control Panel
Weekly Backups
PLANS COMPARISION
INTERSERVER.NET offers a really simple single plan at a fixed cost of $5/month & all their features are included in this price.
A2Hosting
A2 Hosting has been around since 2001. It might keep a little low profile compared to some other huge-names, but it has also provided some of the fastest server speeds. They provide great customer support, the hosting plans are friendly, and they have a unique "anytime" money-back guarantee to get your money back for any unused portion of your service. Most plans include backups & SSL too.
Провайдеры с поддержкой ASP.net
В этом рейтинге 1025 реальных отзывов о 36 компаниях, а также наши эксперты (5) выполнили тестов/обзоров (33)
Сегодня на просторах постсоветского пространства хостинг поддерживающий технологию ASP.net давно уже не редкость. Каждый провайдер, который предлагает Windows-хостинг, соответственно поддерживает работу данной технологии. Это объясняется тем, что компания Microsoft, чтобы хостинг-провайдеры покупали ее Windows-server, создала ASP-конструкции, которые дают определенные преимущества над Linux-платформой. Эти преимущества заключаются в возможности получения более быстрого доступа к функциям сервера, хотя впрочем они несущественны.
Данный рейтинг практически идентичен рейтингу Windows-хостинга и имеет небольшие отличия, которые продиктованы отзывами пользователей.

Страна: Россия
На рынке : c 2006 года
Клиентов: 1600000 (
3.46 % рынка)
Серверы: Россия
Промокод: 0E72-BC86-9AA9-47BC 5% скидки на заказ домена и/или хостинга
Панель управления: ISPManager, cPanel, Parallels
Тестовый период : 14 дней

Страна: Россия
На рынке : c 2002 года
Клиентов: 10000 (
0.02 % рынка)
Серверы: Великобритания, Европа, Россия, США, Украина
Промокод: AVA-bomba -30% на хостинг
Панель управления: cPanel

Страна: США
На рынке : c 2002 года
Клиентов: 100000 (
0.12 % рынка)
Промокод: robogator25 -25% на хостинг
Панель управления: cPanel
Тестовый период : 30 дней

Страна: Россия (Лицензия)
На рынке : c 2006 года
Клиентов: 150000 (
0.32 % рынка)
Серверы: Россия
Панель управления: Собственная, ISP Manager
Тестовый период : 10 дней

Страна: Россия
На рынке : c 2002 года
Клиентов: 240000 (
0.52 % рынка)
Серверы: Россия, США, Франция
Панель управления: cPanel, DirectAdmin, Plesk
Тестовый период : 14 дней

Страна: Россия
На рынке : c 2002 года
Клиентов: 100000 (
0.22 % рынка)
Панель управления: Собственная
Тестовый период : 10 дней

Страна: США
На рынке : c 1998 года
Клиентов: 150000 (
0.18 % рынка)
Серверы: США
Панель управления: сPanel
Тестовый период : 30 дней

Страна: Россия
На рынке : c 2012 года
Клиентов: 21000 (
0.05 % рынка)
Серверы: Беларусь, Германия, Нидерланды, Россия, США.
Промокод: 60offsale -60% на первый платеж
Панель управления: ISPManager
Тестовый период : 7 дней

Страна: Россия
На рынке : c 2003 года
Клиентов: 50000 (
0.11 % рынка)
Серверы: Европа, Нидерланды
Промокод: ZB6DVS50 Скидка -10% на первый платеж
Панель управления: ISPmanager
Тестовый период : 10 дней

Страна: США
На рынке : c 1999 года
Серверы: США
Панель управления: cPanel, Plesk
Тестовый период : 30 дней





Юзеры ( 5 ) оценили на 5.0 из 5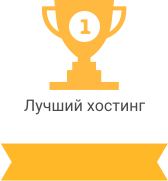 Настоятельно рекомендуем не покупать слишком дешевый хостинг! Как правило с ним очень много проблем: сервер иногда не работает, оборудование старое, поддержка долго отвечает или не может решить проблему, сайт хостера глючит, ошибки в регистрации, оплате и т.д.
Также мы собрали тарифы от тысяч хостеров, чтобы вы могли выбрать хостинг по конкретной цене.
Облачный хостинг — распределение нагрузки на несколько серверов, если сервер с вашим сайтом перегружен или не работает. Это гарантия того что пользователи в любом случае смогут видеть ваш сайт. Но это дорогая, более сложная опция, которую предоставляют далеко не все провайдеры.
Виртуальный хостинг — подходит для большинства проектов начального уровня с посещаемостью до 1000 человек в сутки. В таком хостинге мощность сервера делится между несколькими хостинговыми аккаунтами. Услуга проста в настройке даже для новичков.
VPS — подходит для более сложных проектов с достаточно большой нагрузкой и посещаемостью до 10000 человек в сутки. Здесь мощность сервера фиксированная для каждого виртуального сервера, при этом сложность настройки увеличивается.
Выделенный сервер — нужен для очень сложных и ресурсоемких проектов. Для вас выделяют отдельный сервер,мощность которого будете использовать только вы. Дорого и сложно настраивать.
Размещение и обслуживание вашего собственного сервера в дата-центре хостинга — это не очень популярная услуга и требуется в исключительных случаях.
CMS — это система управления контентом сайта. Хостеры стараются для каждой из них делать отдельный тариф или упрощать установку. Но в целом это больше маркетинговые ходы, т.к. у большинства популярных CMS нет специальных требований к хостингу, а те что есть — поддерживаются на большинстве серверов.
Тестовый период — предоставляется хостером бесплатно на 7-30 дней, чтобы вы могли удостовериться в его качестве.
Moneyback — период на протяжении которого хостер обязуется вернуть деньги, если вам не понравится хостинг.
Означает какая операционная система установлена на сервере хостинга. Мы рекомендуем размещать на серверах с Linux, если нет особых требований у разработчиков сайта.
Абузоустойчивый хостинг — компании, которые разрешают размещать практически любой контент, даже запрещенный (спам, варез, дорвеи, порнографические материалы). Такие компании не удаляют контент вашего веб-сайта при первой же жалобе ("абузе").
Безлимитный хостинг — хостинг у которого отсутствуют лимиты на количество сайтов, БД и почтовых ящиков, трафик, дисковое пространство и т.д. Обычно это больше маркетинговый трюк, но можно найти что-то интересное для себя.
Безопасный хостинг — тот, где администрация постоянно обновляет ПО установленное на серверах, устанавливает базовую защиту от DDoS-атак, антивирус и файерволлы, блокирует взломанные сайты и помогает их «лечить».
Защита от DDOS — компании, которые предоставляют хостинг с защитой от DDoS-атак. Такие пакеты ощутимо дороже обычных, но они стоят своих денег, так как ваш сайт будет защищен от всех видов сетевых атак.
На языке программирования PHP и базах данных MySQL сейчас работает большинство сайтов. Они же поддерживаются практически всеми современными хостингами.
ASP.NET — платформа для разработки веб-приложений от Майкрософт.
От панели управления зависит ваше удобство в настройке хостингесайта.
Большинство качественных хостингов из нашего ТОПа используют удобные панели управления, поэтому рекомендуем больше внимания уделить другим параметрам при выборе.
Recent Posts
Popular Posts
Categories
Tutorials For Network
Hosting An ASP.NET Core Web Application In IIS
For the past few years I've been almost exclusively using Azure's PAAS Websites to host my .NET Core applications. Whereby I set up my Azure Devops instance to point to my Azure Website, and at the click of the button my application is deployed and you don't really have to think too hard about "how" it's being hosted.
Well, recently I had to set up a .NET Core application to run on a fresh server behind IIS and while relatively straight forward, there were a few things I wish I knew beforehand. Nothing's too hard, but some guides out there are waaayyy overkill and take hours to read let alone implement what they are saying. So hopefully this is a bit more of a straight forward guide.
You Need The ASP.NET Core Hosting Bundle
One thing that I got stuck on early on was that for .NET Core to work inside IIS, you actually need to do an install of a "Hosting Module" so that IIS knows how to run your app.
This actually frustrated me a bit at first because I wanted to do "Self Contained" deploys where everything the app needed to run was published to the server. So… If I'm publishing what essentially amounts to the full runtime with my app, why the hell do I still need to install stuff on the server!? But, it makes sense. IIS can't just magically know how to forward requests to your app, it needs just a tiny bit of help. Just incase someone is skimming this post, I'm going to bold it :
Self contained .NET Core applications on IIS still need the ASP.NET Core hosting bundle
So where do you get this "bundle". Annoyingly it's not on the main .NET Core homepage and you need to go to the specific version to get the latest version. For example here : https://dotnet.microsoft.com/download/dotnet-core/3.1.
It can be maddening trying to find this particular download link. It will be on the right hand side buried in the runtime for Windows details.
Note that the "bundle" is the module packaged with the .NET Core runtime. So once you've installed this, for now atleast, self contained deployments aren't so great because you've just installed the runtime anyway. Although for minor version bumps it's handy to keep doing self contained deploys because you won't have to always keep pace with the runtime versions on the server.
After installing the .NET Core hosting bundle you must restart the server OR run an IISReset. Do not forget to do this!
In Process vs Out Of Process
So you've probably heard of the term "In Process" being bandied about in relation to .NET Core hosting for a while now. I know when it first came out in .NET Core 2.2, I read a bit about it but it wasn't the "default" so didn't take much notice. Well now the tables have turned so to speak, so let me explain.
From .NET Core 1.X to 2.2, the default way IIS hosted a .NET Core application was by running an instance of Kestrel (The .NET Core inbuilt web server), and forwarding the requests from IIS to Kestrel. Basically IIS acted as a proxy. This works but it's slow since you're essentially doing a double hop from IIS to Kestrel to serve the request. This method of hosting was dubbed "Out Of Process".
In .NET Core 2.2, a new hosting model was introduced called "In Process". Instead of IIS forwarding the requests on to Kestrel, it serves the requests from within IIS. This is much faster at processing requests because it doesn't have to forward on the request to Kestrel. This was an optional feature you could turn on by using your csproj file.
Then in .NET Core 3.X, nothing changed per-say in terms of how things were hosted. But the defaults were reversed so now In Process was the default and you could use the csproj flag to run everything as Out Of Process again.
Hosting ASP.NET Core application with IIS
I just want to make it short by not telling stories. For detail stories reach to reference article.
Classic ASP.NET hosting
In a classic ASP.NET application everything is hosted inside of an IIS Worker Process (w3wp.exe) which is the IIS Application Pool. The AppPool hosts your ASP.NET application and your application is instantiated by the built-in ASP.NET hosting features in IIS.
ASP.NET Core with IIS
With the ASP.NET core, the application is NOT hosted inside of an IIS worker process but rather runs as a separate process (like a Console application) that runs its own Web server using the Kestrel component. It's fast and functional in getting network requests into your application, but it's 'just' a raw Web server. It does not include Web management services as a full-featured server like IIS and NGNIX does.
ASP.NET Core applications are standalone Console applications invoked through the dotnet runtime command. They are not loaded into an IIS worker process, but rather loaded through a native IIS module called AspNetCoreModule that executes the external Console application.
The AspNetCoreModule has to be installed on your server and is part of the ASP.NET Core Server Hosting Bundle.
Once you've installed the hosting bundle (or you install the .NET Core SDK on your Dev machine) the AspNetCoreModule is available in the IIS native module list:
The AspNetCoreModule's job is to ensure that your application gets loaded when the first request comes in and that the process stays loaded if for some reason the application crashes. Once running, incoming Http requests are handled by this module and then routed to your ASP.NET Core application.
If you run on Windows you will likely want to run Kestrel behind IIS to gain infrastructure features like port 80/443 forwarding via Host Headers, process lifetime management and certificate management to name a few.
While the IIS Site/Virtual still needs an IIS Application Pool to run in, the Application Pool should be set to use No Managed Code. Since the App Pool acts merely as a proxy to forward requests, there's no need to have it instantiate a .NET runtime.
The AspNetCoreModule is configured via the web.config file found in the application's root
If the above config does not work try with the following config which you will be getting when you published in the local system folder.
Note that when you open the config which was created as a result of publishing the application, you will find AspNetCoreModule (marked bold in the above config) as AspNetCoreModuleV2. Change it to AspNetCoreModule
IIS Identity and Permissions
You might also have to tweak the IIS App Pool Identity to something other than the default ApplicationPoolIdentity in order to ensure that your application has access to resources it needs to run. Try starting with NETWORKSERVICE and then move to a Custom Account that matches the actual rights required by the application.
Running IIS as a Development Server — no
.NET Core Hosting
The Best .NET Core Hosting Solution.
Each of our web hosting solutions are fine-tuned, blazing fast and are ready for you! Choose the high speed package tailored for your needs.
1 Website
5 Databases
Unlimited Storage
Unlimited Transfer
Plesk Onyx 17.8 Control Panel
Free SSL & SSD
Turbo
Free & Easy Site Transfer
Anytime Money Back Guarantee
Get Full Details
51% Off (Was $11.99 )
Unlimited Websites
Unlimited Databases
Storage
Transfer
Plesk Onyx 17.8 Control Panel
Free SSL & SSD
Turbo
Free & Easy Site Transfer
Anytime Money Back Guarantee
Get Full Details
51% Off (Was $21.99 )
Unlimited Websites
Unlimited Databases
Unlimited Storage
Unlimited Transfer
Plesk Onyx 17.8 Control Panel
Free SSL & SSD
Turbo (Up To 20X Faster )
A2 Site Accelerator
Free & Easy Site Transfer
Anytime Money Back Guarantee
Get Full Details
As a .NET Core user, you know you've chosen a high performance platform to develop on. Shouldn't you also choose the high performance .NET Core Hosting provider so you get the ultimate speed? That's A2 Hosting! Your site, application and all of your projects come hosted on our blazing fast SwiftServer platform. You can even choose our Turbo Servers featuring up to 20X faster page load speeds compared to competing .NET Core Hosting solutions.
Developer Friendly .NET Core Hosting
Just a few ways we make your life easier.

At A2 Hosting, you get the best versions of your favorite and the most popular Windows Hosting development software. Here are just some of the development software and solutions that will be included within your account:

A mere 1-second page load delay impacts your bounce rate, SEO rankings and even your conversion rate. You won't have to worry about any of this when you choose A2 Hosting and our screaming fast SwiftServer platform! Hosting on speed optimized servers with your choice of server location, free SSDs and our up to 20X faster Turbo Servers are all advantages of choosing A2 Hosting!

Are you ready to move your site to A2 Hosting, but nervous about doing the actual site migration to our servers by yourself? Don't be! In most cases we can move your site for free. Just contact our friendly 24/7/365 Guru Crew Support team to request that they move your site for you! It's a worry-free migration! That means there's no more barriers for you to get your hands on all of our site speed optimization resources! Isn't it about time that you love your web host?

Our 24/7/365 support staff includes expert system admins hard at work ensuring your server runs at its peak. We employ our industry's best practices, feature servers in the best data centers and make sure your server includes the latest security patches. That's why we can commit to your service being up over 99.9% of the time.
.NET Core Hosting — Experience The A2 Difference Today!
Here are just a few of the .NET Core Hosting benefits you'll experience with us that make A2 Hosting the very best!
Up To 20X Faster Servers
Our exclusive Turbo Server option offers you the fastest hosting experience!
Guru Crew Support
Our friendly and knowledgeable support team is available 24/7/365 to help!
Free Account Migration
Our team can move your site to A2 Hosting for free in most cases!
Anytime Money Back Guarantee
Give our high speed hosting service a try completely risk free!
99.9% Uptime Commitment
A2 Hosting is the host you can depend on with ultra-reliable servers!
.NET Core Hosting — Industry Best Solutions
Our goal isn't to win awards. Our goal is to offer the best web host solutions that are both blazing fast and ultra-reliable. Even so, we're still extremely proud of our team's accomplishments! Since our launch in 2003, their hard work has helped us earn recognition and accolades as the top hosting provider in the industry.
.NET Core Hosting — What Our Customers Have To Say?
97% of A2 Hosting users have said that they would recommend our services to a friend. Below are just a few examples of reviews from those customers.
"Patience, coherent listeners and concise recommendations the best compliment I can give to Tresden and five other members of the support team today through much of last week. I might also mention that I hosted my own Windows based servers from 1999. " Read full review
"A2 Hosting was very quick to help when I had issues migrating my site from Windows to Linux."
"I am really sorry to leave A2., but currently I am not using the Switf Windows Hosting services I have with your fine company. During all these years A2 services have been outstanding. Thank you very much for your very professional and extremely kind. " Read full review
.NET Core Hosting — Need A Different Solution?

Not seeing the hosting solution that you want or need? Don't worry! We have a whole range of services that are bound to fit your specific hosting needs. At A2 Hosting, we offer Shared, Reseller and VPS services as well as Managed WordPress solutions.Looking for a new domain name or SSL Certificate? We've got you covered there as well! Just click the button below to visit our Web Hosting comparison page. That's where you'll see a full breakdown of each of our Windows Hosting services.
Recent .NET Core Hosting News & A2 Hosting Blog Posts
Additional .NET Core Hosting Software Alternatives & Options
Ubuntu Server
Evolved from Debian, Ubuntu is one of the most stable and customizable Linux distributions. Ubuntu is especially stable because it is a fast changing distribution with around two updated releases each year.
Apache Tomcat
Tomcat is an application server that executes Java servlets for web pages that have Java Server Page coding. Tomcat is developed and maintained by Apache.
Nginx
Nginx is a free HTTP server and reverse proxy. It is focused on performance, stability and low resource use. With additional code, nginx is compatible with most platforms like WordPress.
PHP is a server-side HTML embedded scripting language. It provides users with a complete suite of tools for developing dynamic websites.
Perl 5.10
Perl is a high-level and general-purpose programming language often used for building web applications. While not an official acronym, Perl is often known as «Practical Extraction and Reporting Language».
Recent .NET Core Hosting Guides & Other Helpful Articles
ASP.NET Core Hosting
Do you have any questions about our ASP.NET Core Hosting? Just ask our 24/7/365 Guru Crew Support team. They're friendly, knowledgeable and ready to help! They can tell you all about our developer friendly service including how your account is loaded with tools to help you get the most out of your account. You get the best versions of Windows Server, ASP.NET, MSSQL and so much more! Contact us via live chat, email or phone if you have any questions along the way.
It's obvious that your account is blazing fast. It's also dependable. After all, if you're dealing with downtime, you're losing productivity. That's why you'll be hosted on an ultra-reliable server backed by our 99.9% Uptime Commitment.